This weekend was kind of a disaster for getting the sewing time in. For one, it was POTTY weekend.
Yes, you read that right. Little Miss said farewell to diapers and the weekend largely revolved around the pursuits of potty-ing. It went ok. Only a few accidents and she was generally in good spirits about it without too much fighting or avoiding.
This was great news! Success! Because you know how much Mr. Skooks and I are just over the whole diapering 2 kids thing, right?. Well, maybe you didn't know that, but you can imagine.
Anyway, another problem is that it is hard for me to sew guilt-free when all I have are the weekends. Why? Because weekends, I believe, were made for family time. And since I work many evenings (at home, but still) during the week it is precious to have time with Mr. Skooks (both with and without the kiddos) come the weekend. This may sound hard to believe, but his idea of a good time does not involve watching me get my craft on. (I know, what?!) He's supportive and wants me to have my time, but he's not jumping in there to trace pattern pieces or do any cutting for me so it's not exactly a couples activity. ;)
All of this is well and good.
However
, we didn't plan to do much (and when we have no plan nothing much gets done) and since we were tending to Little Miss and her new diaper-free lifestyle, we weren't up for going anywhere. Plus Mr. Skooks picked himself up a new Wii game on his way home from work on Friday and wanted to play. We switched off Kee-ku time so that we'd each have a chance to spend some time on our own things, but with so many interruptions it took me WAY longer than it should have to just squeeze out one more dress.
My goal BEFORE the weekend arrived was to finish 4 of them.
Wah-wah
.
Ah well. It is what it is. I love the way that ruffle looks on the bottom of the dress. It used to be a part of this pajama top I never wore. Mr. Skooks got me this set of jammies a few Christmases ago and was a tad distressed that I was cutting into them for this project. As I reminded him though, whenever I get these pajama sets the pants get lots of use and the tops just loiter in the back of a drawer forever. I think I may have actually worn this top once. Like, the day I got it and that was it.
He was ok with it after that.
The ruffle was a little beastly to put on. Not because of the instructions in the pattern. More because I used some cheap thread (didn't realize how cheap it was until I went to pull it to make the gathers) and because Connie (my lovely machine) doesn't have a terribly long basting stitch (so the fact that the stitching was so close together also made it difficult to get in there and do some pulling). Maybe next time, knowing this, I'll try to do the gathering stitch by hand and see if that works better.
Because part of wanting to churn out more dresses comes from
this contest I told you about
, I guess I'll submit this as one of my entries even though it's not terribly awe-inspiring even if it's cute (Little Miss LOVES it and started bouncing around the house in it when I showed it to her). I stenciled the butterflies onto the top with some white fabric paint just to mix things up a bit (which was a big hit with Little Miss, is there a little girl out there that doesn't like butterflies?)
All this to say, I REALLY want to make a bunch more of these this week if I can because I know I can come up with something WAY more worthy of entering this contest (entry deadline is 02/15/10). This, for now, will have to do as my submission. Can I hear it again?
Wah-wah.
There's still time to enter the Lil Blue Boo / Dharma Trading Design Challenge if you're interested. Check out the link below for more info: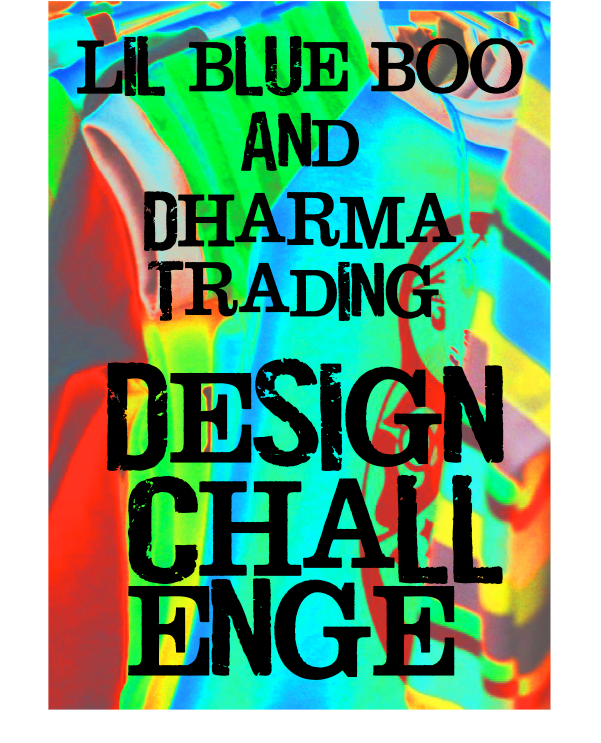 And for those of you that missed it, you can find my previous 2 T-Shirt dresses
here
.