I think it's pretty safe to say that based on the last two Sew Mama Sew Giveaway Days, my favorite part about them is finding new fun blogging friends. (The first one I participated in led me to the Vintage Sheet Freedom Bee which was so much fun and helped me to get to know some awesome ladies from around the world.)

One of my big wins from this last Giveaway Day was from AnneMarie over at Gen X Quilters. She made an adorable mug rug that has taken up residence on my sewing table so I always have a place for a little drink and snack while I'm sewing up a storm in there. She tossed in some adorable fabric with it as well (which I'm still pondering what I most want to make with it.) It is SO cute and definitely my style. :)


Anyway, while getting the goods was definitely a mood-lifter, getting acquainted with her blog was just as gratifying. Immediately I joined up with a swap she was organizing: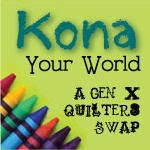 Anyone else out there have a deep abiding love for
Kona Solids
? I must admit, it's becoming a new favorite of mine . . . especially after some particularly poor quality purchases I've made over the last few months at Jo-Ann Fabrics. They do sell some Kona I think, but I've gotten some of the knock-off solids and in my experience they've been quite uneven and the texture and quality are just not up to the level for me.
Anyway, the prospect of swapping 12 fat quarters of one color and getting a rainbow of goodness back was quite appealing. Especially because I found a super hot deal on some Kona on Etsy awhile back. (Thanks again,
Michelle
!) I tossed in Kona Cotton in Melon and this is what I got back:
Just kidding.
I haven't gotten the goods yet, but I'll be sure to share all the dreaminess when they come. Just keeping you on your toes people.
I DO know they're on their way though. Annemarie just posted
this little update
yesterday.
I can't wait! :)
Been involved in a swap lately? Do tell.