I have a confession to make. I am getting addicted to swapping. Whether it be quilt blocks, charm squares, Kona solids . . . count me in.

You know that sentence was all just going to be a lead-in to introduce the latest swap I've entered, don't you? ;)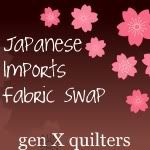 AnneMarie
hooked me again . . . after her
Kona Your World
swap, she decided to run a
Japanese Imports Fabric swap
, and I couldn't stop myself from entering. We're exchanging charm squares this round . . . Japanese fabrics can get pricey so doing a fat quarter swap might not be as doable. After many many months of mooning over her offerings, I decided to FINALLY patronize
JoJoEbi
(of
A Bit of This A Bit of That
fame) and throw a bit of money towards the Japanese economy.
Here's what I got in the mail yesterday:
It's called Nemophila by Oharayaseni . . . cute pears, apples, strawberries, butterflies . . . what can I say? It did it for me. Plus it will be a small enough print to "work" for charm squares.
I'm not gonna lie . . . now that it's here I'm really kind of sad that I have to cut into it! But . . . there are so many cute fabrics waiting for me on the other side. Take a peek at all the swap goodies in the pool in
our Flickr group
.