So, I've decided that 2012 should really be a year of FINISHES as I've got a fair amount of UFO projects (as well as a couple lingering IOU stuff that I keep putting off until later) that are at varying degrees of done-ness.

Case in point - -

I have 2 quilts wherein the tops are completely pieced, but they have been sitting in a drawer waiting for me to get off my lazy (and also busy) bum and just quilt and bind 'em up already. You may remember them as the Vintage Sheet Freedom Bee Quilt of Purpleliciousness . . . and my beautiful I-don't-care-that-I-made-it-EXACTLY-like-Monica-did-I-love-it-completely Glow Happy Quilt (really super bummed out at myself that I didn't finish this one off completely to enjoy it during this past Christmas when I was SO CLOSE to being done with it.)
Due to some generous angeling (umm . . . yes. That's the verb form of "angel" in case you never heard of it before) by my bee-mate, Sarah, I now have all the blocks I need to go ahead and finish piecing my Bee Vintage quilt top (umm . . . and quilt and bind it . . . clearly *not* my favorite part of the process as shown by my previous 2 un-finishes):
My Christmas nativity, which has sadly been a work in progress for *years* now . . . I've got all the pieces cut out for the wise men and have begun to get them together, but I need to just finish this project already so that I can move on with other Christmas making without that sitting in the back of my mind forever.
IOU stuffed friend for my sweet nephew who at this point is too young to realize I have totally neglected him in the "specially made for you by your loving aunt" department, but might be entering the small window wherein my special handmade gift might be foisted on him unknowingly and thus become his favorite toy of all time. (Sinister? LOL.)
IOU handmade something for my very good friends' baby boy who was born November 1 . . . the collaboration I did with Little Miss counts more for her than it does for me . . . even if I *did* do most of the actual work getting it together
That's all I've got off the top of my head . . . I'm sure if I went into the sewing room to investigate I would find more little UFOs that want my love and attention, however, I feel that I've got enough FINISH MEs staring me in the face as it is. Why add insult to injury?
So that's where we are today. Or rather, where *I* am. Or, whatever . . . I'm going to say "we" because you read along on all this crazy stuff I try to pull off so you're in this with me. Except you're not helping me finish these projects by coming over and working on them for me.
It's ok. We're still cool.
And now that I've completely diverted off the title of this post, let me bring it all back around. :) I was so very generously gifted some serious moneys for Christmas by my extravagantly awesome and thoughtful in-laws, who must know that I want to hang out at the fabric store all day and pet the fabric. 1/2 of the moneys came in the form of a check, which is nice because then I can scout around for what I really want both in-store and online and find the best deals and hard to find gems and whatnots. The other 1/2 came in the form of a gift card to my favorite fabric store in town. No complaints! Both of these things are AWESOME.
I've decided that the half of the money that's in gift cards I'm going to hold in reserve for the odds and ends and bits and bobs I need to finish up the projects in the above list (yes - - there's a part of me that is quite practical and I, like many of you probably, don't overflow with $$ these days for sewing related stuffs). With the cash, I decided to indulge in some fabrics that I can't get in town, and that I've been drooling over for a long time. So this is what I gots (well . . . what I just ordered and am already licking my chops in anticipation of getting!):
Some Swim Sisters fabric a la Spoonflower scored from Janey Mac on Etsy - to add to my fledgling Heather Ross collection




And . . . the MOTHERLOAD of Happy Mochi Yum Yum a la Monica Solario-Snow a la Happy Zombie a la with-a-coupon-code-it-was-cheaper-to-get-it-all-at-Fabric.com-in-half-yards-then-it-was-to-get-it-anywhere-else-in-FQs! How do you like THAT for a photo caption?!
I had a little bit leftover after all of that frenzied purchasing of fabric deliciousness so I decided to finally pull the trigger on a print that I've been eyeballing for my upstairs half-bathroom since first I saw it: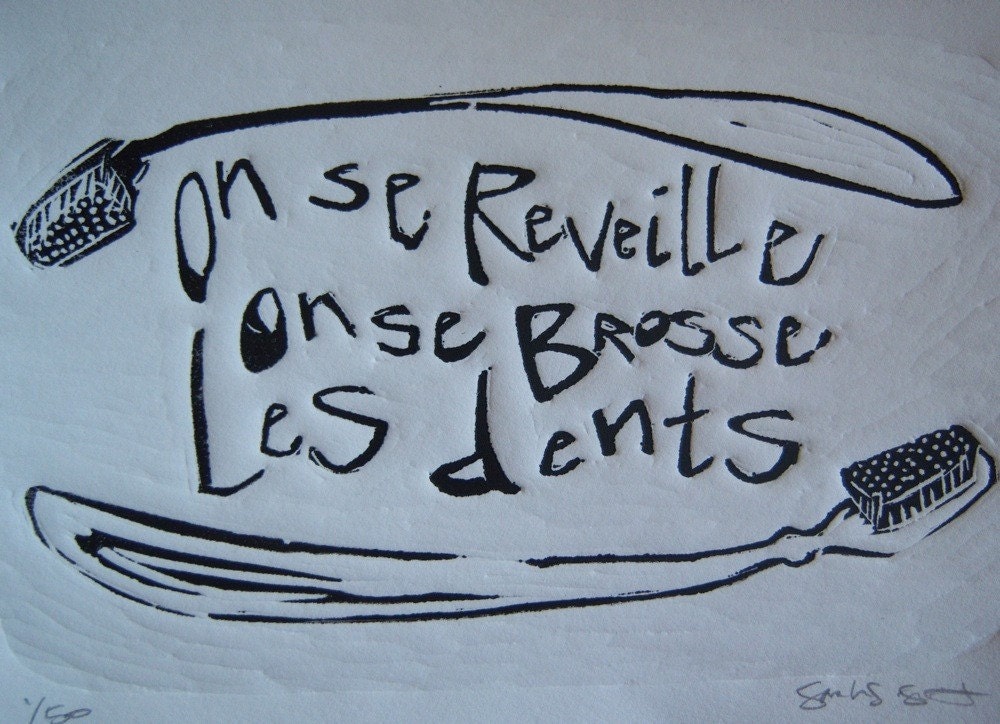 "on se reveille on se brosse les dents" by my friend, Sarah (aka theantibride on Etsy) - a hand-pulled linocut the translation of which is "we get up, we brush our teeth!"
Hooray! Can't wait for my mail to EXPLODE. :)